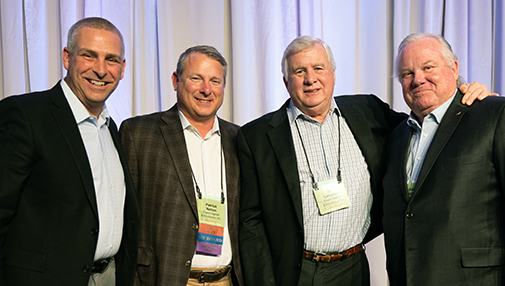 Ergon Foundation, Inc. recently announced a contribution of $1,000,000 to the Asphalt Institute Foundation (AIF) to promote innovation in the asphalt industry.
Ergon Asphalt and Emulsions President Baxter Burns announced the contribution at the Asphalt Institute Annual Meeting in Tucson, Arizona in December. Ergon Asphalt and Emulsions Senior Vice President Patrick Nation and Ergon Asphalt and Emulsions Chairman William (Bill) Lampton shared the stage for the announcement.
"We believe in giving back to our industry by finding ways to support research initiatives that promote sustainability and innovation," said Burns. "We are proud to support the Asphalt Institute Foundation with this gift." Ergon is based in Jackson, Mississippi.
The Asphalt Institute Foundation supports strategic research projects that are designed to advance and improve both the liquid asphalt industry and the welfare of the general public. Established in 2014, the Asphalt Institute Foundation is a 501(c)3 non-profit organization.