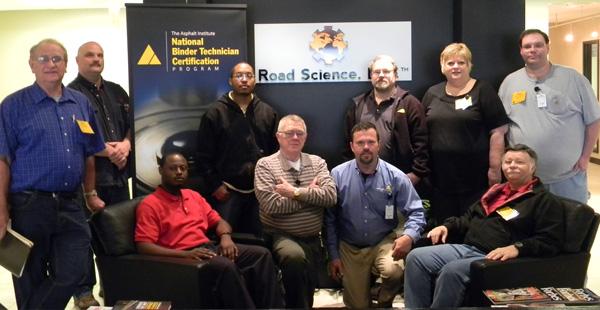 Asphalt Institute's National Binder Technician Certification (NBTC) program graduated eight new students in Tulsa, Oklahoma in April.
The Federal Highway Administration sponsored the training in conjunction with the Oklahoma Department of Transportation. Classes were held at Road Science AMRL accredited laboratory in Tulsa.
It has been the goal of the NBTC to bring both user and producer together to demonstrate proficiency in a standard, consistent interpretation of the published standards and by doing so, reduce testing variability.
Graduates included:
James Rojecki – Midland Asphalt Materials
Austin Thacker – Road Science
Philip Lawrence – ODOT
Marcella Donovan – ODOT
Kenneth Hobson – ODOT
Reed Chaney – Holly Asphalt Company
Timothy Maynard – Wynnewood Refining Company
Karl Francois – Gardner-Gibson