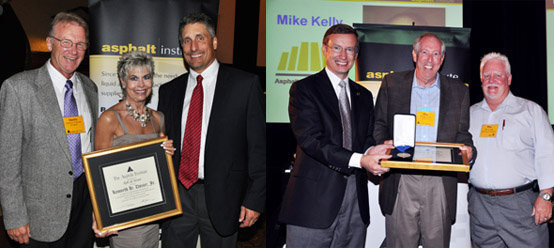 Longtime Amoco/BP employee Ken Dozier was posthumously named to the Asphalt Institute (AI) Roll of Honor and Asphalt Material employee Mike Kelly received the Distinguished Service Award at the AI summer meeting.
Jodi Dozier accepted the award on her late husband's behalf. Dennis Frykman of BP Asphalt and Stan Andrie also spoke regarding Dozier's award.
Ken served as AI Vice Chairman of the Board in 1998 and as Chairman in 1999. Among many other contributions, Ken's leadership at AI led to the formation of the Asphalt Pavement Alliance.
Mike Kelly has worked in this industry since the late 1960s. During his tenures at Bituminous Materials, Inc., Elf Asphalt and Asphalt Materials, Inc. Mike has championed high quality polymer based asphalt products.
Kelly has served as Chairman of AI Finance, Marketing and Membership committees. AI President Pete Grass and Mike O'Leary of MeadWestVaco presented Kelly's award.
Awards were presented at the Intercontinental Hotel in Chicago in August.