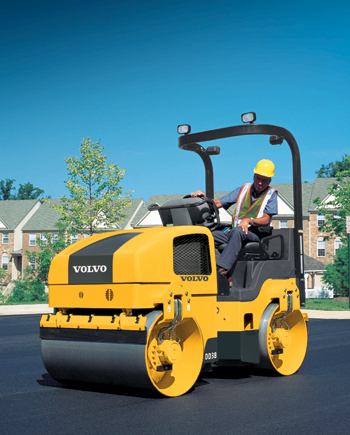 Part 2: Subgrade Preperation, Drainage and Pavement Thickness
By John Davis
This is the third article in a series that provides information on long lasting asphalt pavements for commercial parking lots and driveways. The first article provided an overview of the basics associated with these pavements. The third article covered foundation and structural design practices(subgrade preparation, drainage and thickness design). This article covers materials selection and construction practices.
Three of the essential elements of constructing a long-lasting asphalt driveway or parking lot are subgrade preparation, drainage and pavement thickness design. If any of these steps are flawed, the driveway or parking lot will probably not meet expectations.
Subgrade Preparation for Driveways
Buddy Prather, president of Prather Paving in Lexington, Kentucky, a driveway and parking lot contractor, always makes a careful evaluation of the subgrade before doing any work.
"If there are severe structural problems or subgrade problems, we remove the old asphalt, dig out the soft part of the subgrade and fill it back up with 2-inch rock, plus Dense Graded Aggregate on top," says Prather. (Dense Graded Aggregate is a Kentucky DOT specification material consisting of a well graded, 0.75-inch top-size aggregate with high dust content, which is commonly used as an aggregate base.)
"When we do prep work, like cutting out humps or soft spots, we level them or remove the bad soil and replace it with 12 inches of 2-inch rock plus 2 inches of Dense Graded stone," says Prather.
Leveling and contouring the subgrade is important so that there is proper drainage and no low spots. Prather adds that on a driveway that is 20 or 30 years old, he uses a stringline to ensure leveling.
As part of the prep work, Prather cuts the grass close to the side of the driveway and thoroughly cleans the surface of the old asphalt. "Then we mill along the sidewalk so the new mat properly abuts the concrete sidewalk," he says.
"What's good to know about new driveways for most homes or townhouses or condos is that practically every worker on the job eventually drives his truck on the subgrade where the asphalt will be placed," says Tim Murphy, President of Murphy Pavement Technology of Chicago. "This means that plenty of continuous compaction occurs on the subgrade and aggregate base, and if weak spots do exist they will be discovered by default and removed and replaced because no driver wants to get his work truck stuck."
Subgrade for Commercial Parking Lots
When preparing subgrades for parking lots, Prather Paving cuts out soft spots and replaces them with 12 inches of 2-inch uniformly-sized rock. "We also put fabric under the 2-inch rock to strengthen it," says Prather. "Then we place 8 inches of Dense Graded Aggregate on top of the big rock, then pave it with 2 inches of hot mix base course, and 1.5 inches of surface course."
Murphy says that soils conditions in the subgrade must be evaluated and addressed before a good parking lot can be constructed. "Because of the various soils types around the country, it is imperative to hire an experienced geotechnical engineer with a working knowledge of local soils conditions when determining subgrade treatments," says Murphy. "Some areas require lime stabilization or under-cutting one foot of soil and replacing it with high quality aggregate material."
Drainage
Murphy says that driveway drainage concerns can almost always be mitigated by simply sloping the asphalt pavement one way or the other, and by avoiding a built-in "bird-bath" depression. "In southern climates the bird-bath is a nuisance, while in northern climates it can become a litigious situation if someone slips and falls on the ice," says Murphy. "Often times the biggest problem with drainage is with improper surface course installation, as well as the aggressive use of a sprinkling system."
For driveways, Prather says his company uses a drainable subbase. "We use 4 inches of 2-inch rock as the subbase, then add 2 inches of Dense Graded Aggregate. We pave it with 2 inches of an intermediate-sized, binder mix and 1.5 inches of surface course." On small parking lots and long residential driveways, Prather checks that there is a 2 percent (or more) slope to ensure drainage.
For parking lot drainage, a proper asphalt pavement slope, adequate spacing of catch basins, and locating catch basins to avoid trafficked areas will create an effective drainage system. Also, contractors can talk to the property manager about the excessive use of sprinkling systems that may saturate the pavement structure.
Pavement Thickness Design for Driveways
The Asphalt Institute has informational brochures that provide guidelines for thickness design. Murphy's experience and recommendations generally agree with the Institute guidelines. In general, Murphy recommends 4 inches of compacted hot mix asphalt on a full-depth driveway (hot mix asphalt placed directly on subgrade). When using a combination aggregate subbase and hot mix mat, Murphy recommends 3 inches of asphalt placed over 4 inches of aggregate subbase.
"What is important," says Murphy, "is that the maximum particle size for the aggregate base be well-graded—including 1-inch top size through fine material—and the hot mix surface course contain 1/2-inch top size aggregate."
For upgrading longer, existing driveways that carry a mix of traffic, Prather Paving puts down two inches of hot mix asphalt binder, composed of 1/2- or 3/4-inch top size rock and 1.5 inches of a dense graded surface mix. "On small driveways where the subgrade is good, we put down 2 inches of compacted surface mix," says Prather.
Parking Lot Thickness Design
Many parking lots fail not because of aging or alligator cracking, says Tim Murphy, but because heavily-loaded trucks or heavily-used locations in the parking lot do not have adequate pavement thickness. Entrances, approaches, exits, drive-throughs and dumpster-pad areas break down because there is not enough structural capacity (thickness) to support the heavy use and heavy loads.
Parking lot pavement designers need to specify increased thicknesses for heavily used areas and areas where heavy vehicles move. They should also require traffic control devices that will direct heavy vehicles to use the areas where the pavement is thicker.
"Tens of thousands of dollars can be saved in pavement repairs by instructing drivers of delivery and disposal trucks where to drive, with signs or physical barriers, speed bumps and traffic control patterns," says Murphy.
Light Duty and Heavy Duty
For full-depth, light-duty commercial parking lots, Murphy recommends 4.5 inches compacted thickness of hot mix asphalt on the subgrade. For full-depth, heavy-duty parking lots, he recommends 7.5 inches of hot mix asphalt on subgrade.
For light-duty parking lots with an aggregate base, Murphy recommends 3 inches of hot mix asphalt on 6 inches of aggregate base. For heavy-duty parking lots, he recommends 6 inches of hot mix asphalt on 3 inches of aggregate base.
"It is important to recognize that both the light-duty and heavy-duty pavements total 9 inches," says Murphy. This allows for constructing the subgrade soils to one continuous elevation with a slight slope away from the structure. If the thicknesses vary, then an underground accumulation of water will most certainly occur. This would require underdrains, which increases the cost of the parking lot with no inherent benefit to the structure."
Prather Paving's recommendation for the aggregate base is somewhat different. "On commercial jobs," says Prather, "most engineers will specify 8 inches of dense-graded aggregate. If I can talk with the engineer, I recommend 6 inches of 2-inch size rock plus 2 inches of dense-graded aggregate. That makes a strong subbase. Then we lay down 2 inches (compacted thickness) of binder mix and 1.5 inches of surface course."
Assuring Adequate Pavement Support
Asphalt pavements are versatile and long lasting. But careful planning, design and construction is needed in order to achieve these characteristics. The process includes following proper guidelines for subgrade preparation, drainage and thickness design. The Asphalt Institute has several informational brochures on these subjects, which can be obtained from their website, www.asphaltinstitute.org. The website also has basic information and answers to frequently asked questions about driveways and commercial pavements.