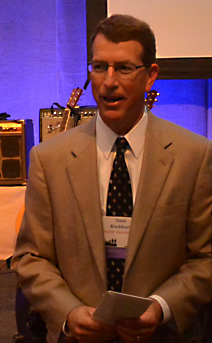 The Asphalt Institute (AI) named Dave Blackburn of Asphalt Materials, Inc. their 2013 Chairman of the Board of Directors at the group's annual meeting in Carlsbad, California in December.
Clint Ryback of Phillips 66 was named Vice Chairman of the institute for 2013.
Blackburn is President of Asphalt Materials, Inc. in Indianapolis, Indiana. He previously served as AI Vice Chairman in 2012. He also served as chairman of the AI Marketing Committee and the Public Policy/Relationships Committee.
"I'm humbled and honored to be selected as chairman of the Asphalt Institute. The institute is in a great place with a record number of active and enthusiastic members who are truly involved in industry issues," said Blackburn.
"We are all faced with a challenging environment, but I'm confident we have the organization to make a difference," added Blackburn.
The Asphalt Institute was founded in 1919 and is the international trade association of petroleum asphalt producers, manufacturers and affiliated businesses. AI promotes the use, benefits and quality performance of petroleum asphalt.