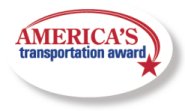 Projects that improve traffic flow, modernize our transportation systems for current and future needs and shorten construction times were recognized as winners of America's Transportation Awards at the annual meeting of the Southeastern Association of State Highway and Transportation Officials in August.
"States are adapting to their current economic situations," said Susan Martinovich, AASHTO president and director of the Nevada Department of Transportation. "The innovation that is emerging and the efficiency in which projects are completed deserve recognition from the public and I am thrilled to see them honored for their hard work."
AASHTO, AAA and the U.S. Chamber of Commerce cosponsor the annual awards competition to recognize the best transportation projects in America using three main categories—On Time, Under Budget, and Innovative Management.
Ten transportation projects from five state DOTs were entered into this year's Southeastern competition. Four states received awards.
In the On Time category: the Florida Department of Transportation won for its I-10 to I-95 Interchange: "The Big I" project (medium project division) and the Kentucky Transportation Cabinet won for its Newton Pike Extension project (small project).
Three states received awards in the Innovative Management category: Kentucky won its second award for its US 68/KY 80 Land between the Lakes project (medium project), the West Virginia Department of Transportation won for its Fairmont-Gateway Connector (medium project), and the South Carolina Department of Transportation took honors for its Plans Online venture (small project).
South Carolina also picked up an award in the Under Budget category for its I-385 Rehabilitation project (small project).
These winners will now compete with others from around the country for the national Grand Prize and People's Choice Award, which will be presented at the AASHTO Annual Meeting, Oct. 16 in Detroit.
The Grand Prize is awarded to the state DOT project receiving the greatest number of points in judging by a panel of experts. The separate People's Choice Award is presented to the transportation project that receives the greatest number of online votes from the general public. Online voting is underway.