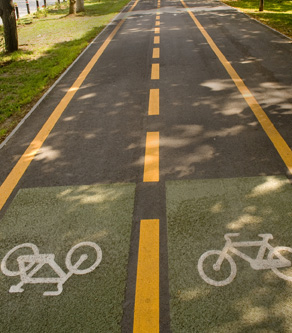 By Bob Sedon
Asphalt has been used for over 90 years to make public sidewalks in the U.S. The flexibility and durability of asphalt sidewalks keeps them in wide use today.
In the 1920 January – June edition of "The American City", Walter Rosengarten discusses the advantages of asphalt sidewalks. With sidewalks, "the question of frost action generally becomes the important one. It is for this reason that an asphalt sidewalk is advantageous. It is yielding and will not readily crack and disintegrate with slight movements, thus permitting a less expensive foundation than must be used for a rigid type of surface."
It was for these reasons, durability and cost efficiency, that in 1913 the city of Chicago decided to construct the sidewalks of Lincoln Park with asphalt. Years later George T. Donoghue, Chief Engineer of the Lincoln Park Commission, evaluated the asphalt sidewalks as having "given complete satisfaction despite the fact that they have been subject to much heavier traffic than was originally intended."
Tractors pulling passenger coaches and numerous park department trucks drove on the sidewalks every day rather than using the dirt roads through the park. Rosengarten noted that "asphalt sidewalks are not slippery, easily repaired, shock absorbing and pleasant to walk upon, easily cleaned, smooth and without joints; they should be very popular."
For as long as 50 years, asphalt has been commonly used to construct sidewalks in parks, zoos, outdoor shopping malls and other large outdoor areas where pedestrian traffic is the norm. Concrete sidewalks were the mainstays in cities and towns.
However, in today's suburban environs, municipalities and home owner authorities have taken responsibility for many sidewalks or side paths, as they are sometimes called. The need for cost efficiency has become important. The distance between typical housing developments and suburban neighborhoods encourages the use of asphalt to build the sidewalks linking neighborhoods together.
Sidewalks, just like roads, can be constructed and repaired quickly and at low costs using asphalt. Asphalt allows for a continuous, uninterrupted surface making them safer to walk on and making it easier to clear snow and ice in the winter. Local municipalities and housing authorities, typically looking to reduce maintenance costs, will make asphalt their sidewalk material of choice.
The rebirth of historic areas and the attractiveness of vintage appearances have given asphalt sidewalks another boost in popularity. Thousands of towns across America have undertaken projects to restore historic areas.
Town squares, store fronts and streetscapes are being redesigned to take on appearances of years past. Often artists and architects use brick as sidewalk materials in their depictions of these historic restorations. While they look beautiful in pictures, bricks are not ideal to work with in real life. Material costs, labor costs and construction times hamper the use of bricks. Construction budgets with these materials would seem unwieldy to city managers. The cost to maintain brick pavements would give budget-minded city planners headaches that would last for years.
Asphalt has the advantage of being able to be stamped to look like brick, cobblestone and other construction materials. This process is simple and adds little to the cost of a plain asphalt sidewalk. The ability to color asphalt further enhances the appearance of these faux finishes. As part of the redevelopment of its arts and entertainment district, the city of Oakland, CA used stamped asphalt to enhance the renovation of the historic Fox Theater. Other cities like Danbury, CT and Norcross, GA have also undertaken projects to refurbish sidewalks using stamped asphalt paving. The results have been well received by the public and deemed successes by the administrators. With an ever-increasing number of contractors having the ability to stamp and color asphalt, home owners are also able to take advantage of these decorative finishes for asphalt sidewalks.
The use of asphalt for sidewalk construction goes far beyond solid black sheets of pavement. The benefits and flexibility of asphalt will continue to make it more and more popular as a material for sidewalks and pathways.
Features and benefits of asphalt sidewalks
Flexible pavement
Asphalt is a flexible pavement which makes it resistant to cracking and eliminates the need for expansion joints compared with Portland Cement concrete (PCC).
Continuous surface
Asphalt is a continuous, waterproof surface which resists weed growth and inhibits the migration of water to the base thereby reducing the possibility of base failures due to erosion or freeze-thaw cycles.
Easy maintenance
Asphalt is easily repairable and has low maintenance costs.
Salt resistance
Asphalt does not react to salt used for deicing or from salt air in coastal climates. PCC products including cement bricks can spall and degrade through the reaction of the cement with salt.
Quick installation
Asphalt can be installed very quickly (as much as 10 times faster than cement bricks) resulting in much less disruption to traffic.
Elaborate decorative patterns
Stamping and printing techniques make it practical to create embossed artwork in the surface. This can be done quickly and easily and creates a whole new opportunity for decorative pavement designers.
Bob is Assistant Vice President of Asphalt Marketing for United Refining Company in Pennsylvania.