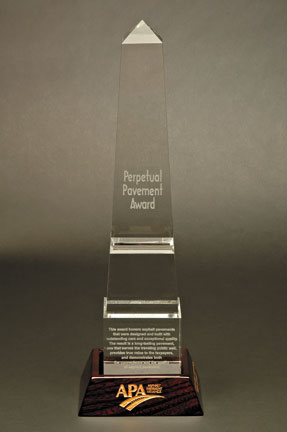 The Asphalt Pavement Alliance (APA) has announced the winners of its 2010 Perpetual Pavement Awards.
These national awards are given to owners of asphalt pavements that are at least 35 years old and have never had a structural failure. The average interval between resurfacing of each winning pavement must be no less than 12 years. The road must demonstrate the characteristics expected from long-life asphalt pavements: excellence in design, quality in construction and value for the traveling public.
Engineers at the National Center for Asphalt Technology (NCAT) evaluated the nominations for the Perpetual Pavement Award and a panel of industry experts validated the winners. They are:
The Alabama Department of Transportation

for a section of State Route 152 in Montgomery.

The Florida Department of Transportation

for a 4.3-mile section of northbound Florida State Road 45/U.S. Highway 41 in Sarasota County.

The Maryland State Highway Administration

(SHA) for a section of MD 10 from MD 648 (Baltimore Annapolis Boulevard) to I-695 (the Baltimore Beltway) in Anne Arundel County.

The Minnesota Department of Transportation

for a five-mile section of U.S. Trunk Highway 61 from milepost 57.5 to 62.5.

The Rhode Island Department of Transportation

(RIDOT) for the northbound lanes of a section of State Highway Route 114 ? Wampanoag Trail between Mink Street and Massasoit Avenues.

The Tennessee Department of Transportation

for a 3.5-mile section of Hardeman County State Route 100.
Each of the winners will receive an engraved crystal obelisk and a plaque. Their names and the names of the projects will be added to a permanent plaque that is kept at NCAT.
"Even though these pavements have been punished by nearly 40 years of use, motorists are still using the original pavement structures," said Mike O'Leary, APA co-chairman. "The extraordinary performance of this pavement is worthy of attention."
"Perpetual Pavement is an industry standard that is extremely well represented by these highways," added Jim Weeks, APA co-chairman. "Long life, durability and exceptional performance are hallmarks of asphalt pavements. These pavements are a testimony to high-performance asphalt as a marriage of excellent design and quality construction."
The Asphalt Pavement Alliance is a coalition of the National Asphalt Pavement Association, the Asphalt Institute and the State Asphalt Pavement Associations. The Asphalt Pavement Alliance's mission is to further the use and quality of asphalt pavements. The Alliance will accomplish this through research, technology transfer, engineering, education and innovation.