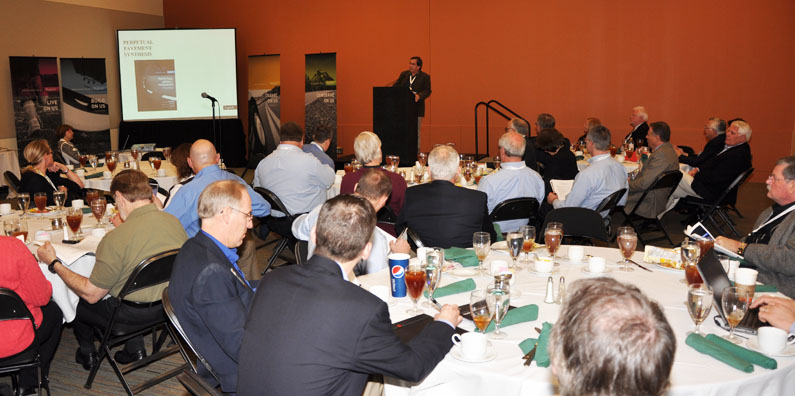 The Asphalt Pavement Alliance (APA) announced an historic degree of support and funding for a new campaign in support of asphalt pavements at the 2010 World of Asphalt conference in February.
The 10-year-old coalition of asphalt industry associations will now receive funding from the State Asphalt Pavement Associations (SAPA), National Asphalt Pavement Association (NAPA) and the Asphalt Institute (AI).
"While SAPA has always been a working partner in APA, 2010 is the first year in which the group will contribute financially toward the APA activities. This is a great partnership between NAPA, AI and SAPA," said David Yates, SAPA chairman.
"The state associations are at the grass roots. We're the ones who are taking the message to customers," added Yates.
APA unveiled a new campaign at World of Asphalt that includes a new Web site (www.asphaltroads.org), imagery and taglines as well as a comprehensive technical document and a policy white paper.
"'America Rides on Us. Asphalt.' is our new tagline. It has the perfect double meaning: asphalt is the pavement material that carries most of the traffic in the U.S., plus it is a material that Americans can rely on – we have a lot riding on asphalt," said Mike O'Leary, APA co-chairman.
The APA engineering team developed the technical document entitled "Perpetual Asphalt Pavements: A Synthesis." NAPA's Dave Newcomb was the principal author of the document.
"It captures the activities that have taken place over the last 10 years, synthesizes the information in a way that is useful to providing guidance for Perpetual Pavement design and construction and provides a vision for further research and development," said Newcomb.
APA's advocacy team members developed the white paper, gearing the information toward elected officials and senior Department of Transportation officials. The consistent message is that asphalt pavement is the right choice for cost-effectiveness, sustainability, livability and job creation.
"We lay out the forces that will shape the asphalt market going forward. These forces include tight federal and state budgets creating a fix-it-first mentality, a litmus test for sustainability on all projects, a push toward livable communities and an emphasis on job creation," said Christie Barbie, APA advocacy team co-chair.
The APA is structured in five teams: engineering, advocacy, economics, engineering, environment and image. Each team has representation from AI, NAPA and SAPA.
"These teams are working in overdrive to provide a constant stream of new publications and products – at least one new product every month," said Gaylen Ghylin, APA co-chairman.