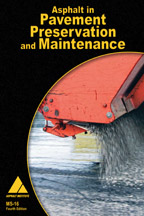 Maintenance of our roadways and pavement preservation are now more important than ever. Asphalt Institute Senior Regional Engineer Wayne Jones discusses the maintenance and preservation issues facing managers and crews. Jones is one of the authors of MS-16 Asphalt in Pavement Preservation and Maintenance.
What are some of the top maintenance concerns for today's contractors and crews?
Obviously a top concern for people in the office is stretching budget dollars as far as possible. With the high cost of materials, they need to make better decisions regarding maintenance budgets. Hands-on professionals need the latest information on the current techniques of how to actually do the procedure and do it correctly and make sure it lasts as long as possible.
How can a Pavement Preservation program save money?
A pavement professional's job is to extend the performance life of a pavement as long as possible. When they incorporate a pavement preservation system they'll soon find that the right treatment at the right time extends the life of the pavement. They'll also find that by using preventative maintenance techniques early in the life of a pavement it is extended for a lot less money than it would take if you wait until the pavement is seriously deteriorated and distressed.
There seem to be a larger number of surface treatments to consider. How do you choose the best one?
New technology and advances in modifiers means there are now more tools in tool box than ever before. You can now go from treating isolated repairs to global repairs with any number of surface treatments. For example, you can use a fog seal for minor problems, a slurry seal to fix friction, microsurfacing to level and seal cracks, or all the way up to a thin overlay that can solve many problems. You can match the pave preservation technique to the specific distresses that are showing up on the pavement.
How can paving professionals keep up-to-date with the latest maintenance procedures?
Education is always best way to keep up. Reading trade journals and attending conferences can be helpful. One of the best sources around is the new MS-16 Asphalt in Pavement Preservation and Maintenance. It's a manual that can be used by pavement professionals in management or practitioners out in the field. It gives hands-on approaches and can be great for someone who wants to catch up on the state-of-the-art in maintenance. For young engineers, it is a great way to get up to speed on the traditional ways things are done and still learn about the latest techniques.
Top-notch training and professional education in many aspects of the asphalt industry are available through the Asphalt Institute and its Asphalt Academy winter class offerings.