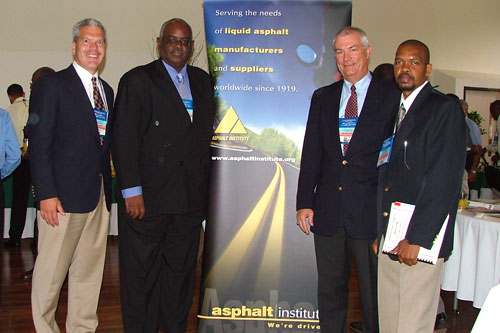 AI Field Engineers John Duval and Wayne Jones recently lead training workshops at the 3rd Caribbean Asphalt Conference, Sept. 18 – 20, in Trinidad, West Indies. The theme of the Conference was "Improving Caribbean Roads: Materials, Techniques, Technologies." Along with topics presented by other guest speakers, the training sessions led by Duval and Jones included: best practices for hot mix plant operations, noise, hot mix asphalt, base/subgrade preparation, and pavement investigation.
The Conference was attended by over 200 registrants. Pete Grass, President of the Asphalt Institute, also spoke at the Conference and, on behalf of Institute members, congratulated attendees on the launch of the newly formed Caribbean Asphalt Association.
"The Caribbean Asphalt Association will have the opportunity to connect individuals from different organizations in a regular and efficient way so that these relationships can be renewed, enhanced and provide opportunity for new ones to develop," said Grass. "We share common interest, that of the asphalt industry – and common goals, that of prosperous and efficient markets."
Grass also presented a membership plaque to Wayne Wood of Lake Asphalt of Trinidad & Tobago (1978) Ltd., a new Affiliate member company in the Asphalt Institute. Mr. Wood is also the Chairman of the new Caribbean Asphalt Association.