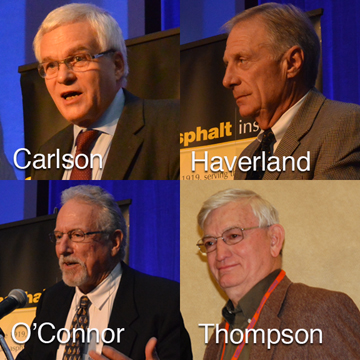 The Asphalt Institute (AI) named two people to their Roll of Honor and awarded two Distinguished Service awards.
Martin Carlson, longtime Technical Director of member company Nynas in Sweden, was named to the AI Roll of Honor.
Carlon's career highlights include a 10-year tenure as president of Eurobitume – the European Bitumen Association. He had a significant role in setting up the Bitumen International Health Forum (BIHF) and was a key player in the many preparations for the IARC monograph release in 2011.
Former AI Chairman William H. (Bill) Haverland was added to the Roll of Honor.
Haverland has 42 years experience in the oil business. He served as Asphalt Marketing Manager at ConocoPhillips for many years and currently works for Associated Asphalt.
His service to AI includes two terms as chairman, in 1996 and in 2005. His loyalty to the organization includes active participation on AI finance, public policy, membership, technical advisory, health safety and marketing committees. He co-chaired the Asphalt Paving Environment Council (APEC) and is known in our industry as a coalition builder.
Retiring Ontario Hot Mix Producers Association (OHMPA) Executive Director and CEO Michael (Mike) O'Connor received the AI Distinguished Service award.
O'Connor's career spans 48 years and includes stints as an estimator, marketing manager, an aggregate general manager and a city engineering employee before taking the helm of OHMPA. In 1997 Mike began leading OHMPA. One of his greatest achievements at OHMPA include the creation of the Technical Director/AI Regional Engineer position.
Dr. Marshal Thompson was awarded his AI Distinguished Service Award during a presentation at the 53rd Illinois Asphalt Pavement Conference held December 12th in Champaign, Illinois.
In his over 50 years of services to the industry, Dr. Thompson is perhaps best known for his work in the field of Mechanistic Structural Analysis for flexible pavements and his extensive research findings serve as the basis for the ME Flexible pavement design procedures adopted by Illinois DOT.
Descriptions of the awards and a complete list of past AI honorees can be seen here.