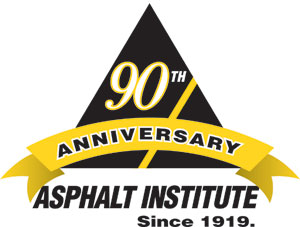 In 2009, the Asphalt Institute celebrates its 90th anniversary as the international trade association of petroleum asphalt producers, manufacturers and affiliated businesses. The Asphalt Institute is the oldest asphalt association in the world. Founded in 1919, the Asphalt Institute has served as the center of excellence for asphalt supplier issues. The Institute also serves as the focal point for applications of new technology and is a leading source of technical, educational and promotional programs for the industry.
"The history of the Asphalt Institute closely parallels the history of the asphalt industry," says Pete Grass, AI President. "In its beginning, the Institute was the primary association spearheading the technical, educational and promotional programs for the industry. For example, during the 1930s, when there were no paved farm-to-market roads in the U.S., the Asphalt Institute partnered with the American Farm Bureau Federation to develop a program for paving America's secondary road system."
In the 40s, Asphalt Institute field engineers helped pioneer the Maine Turnpike, the first asphalt turnpike in the U.S. And in the 50s, AI promoted asphalt's benefits for the Interstate road system. Through the decades, many prominent engineers and leaders rose within the Institute to advance new frontiers of asphalt technology. As the industry evolved, other new associations were formed. Recognizing the importance of industry solidarity, the Asphalt Institute continued to serve as a strong voice while stressing increased opportunities for association partnership.
In the 60s and 70s, the Institute promoted the use of Full Depth asphalt pavements in city street construction with great success. In the 70s, AI was the industry leader in promoting the use of viscosity in asphalt specifications. And in the 90s, the Institute worked with the Strategic Highway Research Program (SHRP) to develop the Superpave volumetric mix design procedure. Following SHRP, AI partnered with the Federal Highway Administration to develop the National Asphalt Training Center to provide education to the country's state engineers and industry on the Performance Graded (PG) asphalt binder tests and specifications.
Today, the Asphalt Institute continues as a center of excellence for research, engineering and education in support of the asphalt industry. And AI is thriving with 95 member companies, says Ralph Shirts (ExxonMobil), 2009 Asphalt Institute Chairman. "With a dedicated staff, strong membership base and support of the member companies in our committees, AI is well-positioned to serve the needs of its members and the industry for decades to come," he says.