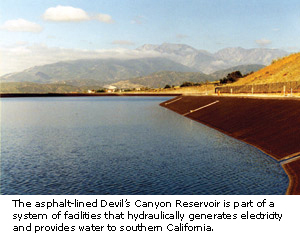 By Jacqueline Goins
Asphalt for containment purposes is not a new concept. Asphalt has been used historically for a variety of environmental applications relating to containing or creating barriers with absolute dependability. It is often the material of choice for a growing number of environmental and hydraulic purposes.
Examples of use in hydraulic structures include revetments, canal and reservoir linings, and heavy facings for dams. One of the first large-scale dam applications was an asphalt revetment of the El Ghrib Dam in Algeria in 1937. Successful stabilization projects using asphalt have been accomplished as well. An asphalt mix with local sand and loess filler stabilized voids in a Galveston, Texas, jetty rendering it impermeable. This stabilization project resulted in the recovery of a significant amount of land.
In its existence, Asphalt Magazine has featured numerous articles on a variety of hydraulic structures ranging from fish-rearing ponds in Washington to drinking water reservoirs in California. What of the present and future use of asphalt in hydraulic structures? Asphalt continues to be the material of choice for many projects. For a refresher on reservoir design, a look at previously constructed hydraulic structures, new constructions and the future use of asphalt in such projects, read on.
Reservoir Design in General
When reservoir planning begins, there are a number of critical design considerations. Among these are durability, impermeability, flexibility, weather resistance and the capacity to hold up against rapid filling and draw-down cycles. With these considerations in mind, many engineers turn to asphalt for liner systems. Not only does it allow for erosion control, it prevents seepage, provides drainage and absorbs loading stresses. The Asphalt Institute's Manual Series, MS-12 Asphalt in Hydraulics, provides detailed information for using asphalt in hydraulic structures.
Previously Constructed Hydraulic Structures
San Joaquin Reservoir, located in Newport Beach, California, was originally built in 1966 and provided drinking water to customers in seven cities and water districts. The facility was drained after the enactment of more stringent regulations prohibiting drinking water from being stored in an open reservoir. It remained empty from 1994 to 2005. The community expressed a desire to restore a water view. As a result, in 2001 the Irvine Ranch Water District proposed purchasing the reservoir from the owners and converting the reservoir to storage of recycled water.
Recycled water used for irrigation can be safely supplied from an open reservoir without a cover. Work to convert the reservoir began in 2004 and took approximately one year to complete. February 2005 marked the reopening of the reservoir. Western Paving of Irwindale, California, repaved a large portion of the 100-feet deep reservoir, the 3:1 slopes and the perimeter roads. In addition, Western Paving has been involved in other reservoir projects such as the Diamond Ranch and Etiwanda reservoirs.

Another familiar project is the Ludington Pumped-Storage Plant in Ludington, Michigan. It is one of the world's largest electricity producers. Construction on this project was completed in 1973 and it is still functional today. The reservoir is 2.5 miles long and one mile wide with an 842-acre surface area. It holds 27 billion gallons of water, a capacity with enough total output to provide electricity for 1.4 million people. The reliable and durable asphalt lining used in construction of this enormous facility has contributed to its longevity.
Newly Constructed Hydraulic Structures
Water containment, treatment and supply are ongoing in California, as is the need for renewable energy sources. Consequently, there is a need for more dams and reservoirs.


The Tehachapi East Afterbay project in southern California was recently completed. It is a new facility serving southern Kern County. It can be drained and filled rapidly to reduce pumping costs during peak electricity demands.
The Afterbay is lined with a hydraulic mix of asphalt using a composite liner system. The bottom layer is three feet of compacted clayey/silty sand. The upper layer is generally three inches of dense graded hydraulic asphalt. The asphalt layer is protected by a 0.1-inch thick layer of mastic asphalt.
The water that passes through the Tehachapi East Afterbay is purchased by water contractors such as the Metropolitan Water District. Two-thirds of Kern County's population and over seven hundred and fifty acres of farm land benefit from this state water project.
Additionally, there are plans for two other projects. One is the Patterson Reservoir in Livermore, California. The purpose of the project is to increase its capacity. Its existing open graded asphalt liner has performed well for over forty years. However, portions of the liner are weathered and need repair. The Patterson Reservoir Project ties in with the South Bay Aqueduct Enlargement Project. The decision was made to raise the dam embankment and place a three-inch overlay of permeable asphalt (MS-12, Gradation D) over the entire existing liner, as well as on the interior slope of the new construction. Work is expected to begin during the summer of 2007.

Dyer Reservoir, also in Livermore, California, is the other project developed by the California Department of Water Resources. It will have a permeable asphalt liner (MS-12, Gradation D), with no leak collection facility. This reservoir is founded primarily on lean clay and some sandstone.
The California Department of Water Resources uses asphalt liners because they are both flexible and impervious and allow for leak detection and seepage recovery. Nekane Hollister, an engineer with the California Department of Water Resources says, "Asphalt reservoir liners often provide durable and cost effective liners when compared to other more conventional lining systems. They are particularly attractive when the liner must provide a durable surface for equipment to enter the reservoir for sediment removal or maintenance."
The Future of Asphalt Use in Hydraulic Structures
Reservoir and dam construction continues on a global scale. As the demand for water continues to grow, asphalt will continue to be elemental in the solutions developed by engineers to meet those demands. Asphalt is safe, diverse, functional and dependable. Its myriad uses are well documented in numerous texts over the years. Time is the greatest witness to the versatility of asphalt and a testament to its dependability.
Jacqueline Goins is the Asphalt Institute's Library Services and Resource Specialist.