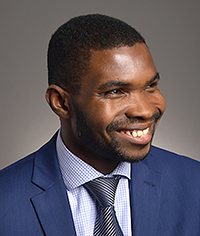 We talk with leading educators and researchers to learn more about the people and topics of asphalt technology.
Dr. Doubra Ambaiowei is the Technical Director at the Ontario Road Builders Association and the Ontario Asphalt Pavement Council.
What drew you to transportation engineering?
My involvement in transportation engineering was a combination of personal interest and an influence from my family's construction business, educational and practical industrial exposures and internal-external mentorship opportunities. Really, it was more a metamorphic process, starting out with an interest in architecture and the structural aspect of civil engineering, then a general construction management focus, and finally a burning quest to understand materials and an overall sustainability application of knowledge acquired and lessons learned.
How is climate change in Canada affecting asphalt pavement design for roads and airfields?
The subject of climate change is one that can no longer be overlooked, the world over. The pavement infrastructure industry in Canada is well accustomed to dealing with weather extremes. From hot summers that can lead to pavement rutting and binder bleed, to freeze-thaw cycles leading to cracks and potholes, to large rainfall events that overwhelm culverts and ditches, the weather is a primary factor in the engineering of resilient and safe pavements. I arrived in Canada in 2011 and have observed from my various engineering involvements (transitioning from research through various educational and consulting roles in Ontario) that, there is an increased awareness of the dangers and risks posed by a changing climate. We are now seeing temperatures that shatter historical records and more frequent extreme rain events. Consequently, there is a need to review our design considerations, construction and maintenance methods toward ensuring risk reduction and boosting our pavement infrastructure resiliency.
Have you found that crumb rubber-modified pavements and RAP are a good combination?
Interestingly, this subject of optimizing the benefits of Crumb Rubber Modifiers (CRM) and RAP, was the focus of my doctoral thesis at the University of Waterloo, Ontario, Canada. In very explicit terms, I will say it is considered reasonable and practical to conclude that RAP and CRM are valuable components of optimizing HMA mixtures. Some might argue that the derivable benefits are subject to jurisdictional applications, which is fair, but ultimately it comes down to how the materials are engineered to perform and perhaps available production and placement expertise. My research showed significant reinforcing and viscosity improvements in the rheological properties of the recovered rubberized-RAP binders, in addition to the potential for high-RAP mix combinations. Based on my specific experiences, this combination is innovative and supportive of any green pavement objective.
Have you seen benefits of calcium chloride as a soil stabilizer in the colder regions of Canada?
I have been involved in studies that evaluated the short and long-term benefits of using calcium chloride in road base stabilization applications. The benefits I have seen comprise moisture and density control during construction, enhanced lubricity and compaction of granular material, and better overall freeze-thaw performance. In one of those studies, an evaluation of the in-situ resilient modulus was completed using a Falling Weight Deflectometer (FWD) at four different points during construction and the early performance period. While it was theorized that the calcium chloride stabilization process would increase in-situ density resulting in higher early resilient modulus values than the unstabilized control sections – this case was not observed and is likely because there was no improvement in density in the stabilized sections at the time of construction. The testing results indicated an observable strength gain between the time of construction and the first spring. The gain in resilient modulus was approximately 20 percent which is similar to previous reports which noted a 30 percent strength gain.
Where should today's students focus their asphalt pavement research?
There is an increasing focus on the environmental and performance considerations in asphalt technology. Hence, I would recommend research into those specific areas, particularly on the individual, combined or collective materials, as it translates to the desire for quality roadways. In addition, the impact of equipment (testing-production-placement) technology should not be overlooked. More importantly, implementing the research outcomes should be given due consideration.