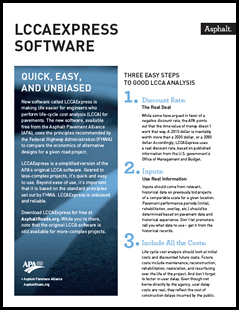 The Asphalt Pavement Alliance (APA) has released new software for life-cycle cost analysis (LCCA) of pavements. The new software, called LCCAExpress, uses the principles recommended by the Federal Highway Administration (FHWA) to compare the economics of alternative designs for a given road project.
LCCAExpress is a simplified version of the APA's original LCCA software. Geared to less-complex projects, it's quick, easy to use and unbiased. The software is available as a free download at www.asphaltroads.org.
"The new software is designed for counties, cities and consultants. It is a very robust software and not daunting for the user," said Jill Thomas of the Minnesota Asphalt Pavement Association, co-chair of the APA's economics team.
"There are three major points that engineers doing LCCA analysis should consider. First, it's important to use a real discount rate. Despite some claims, the discount rate cannot be a negative number. Second, historical information based on local data should be used, not hypothetical data. Third, when doing the analysis, all the costs should be considered, including delays to the traveling public. LCCAExpress does all this in a very user-friendly way," said Thomas.
"LCCA Original calculates the net present value of different pavement alternatives using either deterministic or probabilistic analysis. It is designed for more complex projects. Like LCCAExpress, LCCA Original uses the principles recommended by FHWA," said Carlos Rosenberger of the Asphalt Institute, who co-chairs the economics team along with Thomas.
A new flyer from the APA on LCCAExpress introduces the software and helps counter claims from the concrete industry that asphalt pavements are more costly to build and maintain. Like the software, the flyer can be downloaded free from www.asphaltroads.org.
The website also has a wealth of additional resources on topics including perpetual pavements, policy considerations and environmental sustainability.