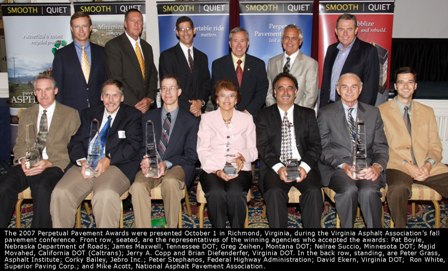 The Asphalt Pavement Alliance (APA) presented the 2006 Perpetual Pavement Awards at a ceremony on October 1, 2007 in Richmond, Virginia, as part of the Virginia Asphalt Association's fall conference.
The award is given to owners of asphalt pavements that are at least 35 years old and have never had a structural failure. The road must demonstrate the qualities expected from long-life asphalt pavements: excellence in design, quality in construction, and value to the traveling public.
The 2006 winners, as determined by the National Center for Asphalt Technology (NCAT) and validated by a panel of industry experts, are:
• California Department of Transportation for a section of the San Diego Freeway (Interstate 405) between Harbor Blvd. and Beach Blvd.
• Minnesota Department of Transportation for TH-61 between Wabasha and Kellogg
• Montana Department of Transportation for a 10-mile length of Interstate 90 over Homestake Pass
• Nebraska Department of Roads for a 5-mile section of State Highway 35 in Wayne County
• Tennessee Department of Transportation for a 14-mile section of State Route 14 in Tipton County
• Virginia Department of Transportation for a 6.5-mile portion of Interstate 81 in Frederick County
Representatives of all six winning state DOTs were present for the awards ceremony. Peter Stephanos, Director of the Federal Highway Administration's Office of Pavement Technology, made the presentations, assisted by APA Co-Chairman Corky Bailey and NAPA Chairman Ron White. Each winner received an engraved crystal obelisk and a handsome plaque. The winners' names and project information were also added to a plaque that is on permanent display at NCAT.
The Asphalt Pavement Alliance is a coalition of the National Asphalt Pavement Association, the Asphalt Institute, and the State Asphalt Pavement Associations. The Asphalt Pavement Alliance's mission is to further the use and quality of hot-mix asphalt pavements. The Alliance will accomplish this through research, technology transfer, engineering, education, and innovation.