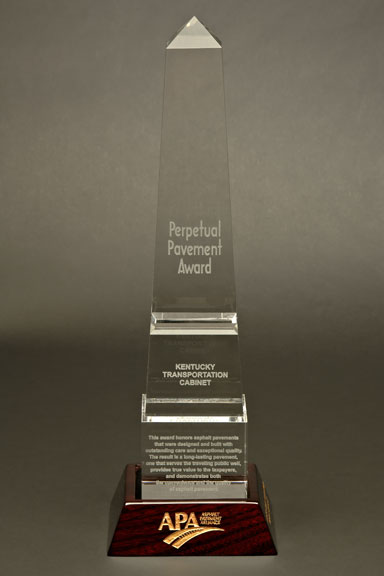 The Asphalt Pavement Alliance's Perpetual Pavement Awards were presented in a special ceremony at the National Center for Asphalt Technology (NCAT) at Auburn University, Auburn, Ala. on May 18. Jack Lettiere, Jr., 2005 President of the American Association of State Highway and Transportation Officials, made the presentations.
Pictured at right are the representatives of the winning agencies. Back row, left to right are Eric Harm, Illinois DOT; Gerald Nicely, Tennessee DOT; Larry O?Donnell and Luke Stango, co-chairmen of the APA; Jack Lettiere, AASHTO; Dan Collen, County of Santa Clara, California; and Tom Peterson, who accepted on behalf of the Colorado DOT. Front row are Sam Beverage, Kentucky Transportation Cabinet; David Kopp, Texas DOT; Andrew Johnson, South Carolina DOT; Aaron Behrman, Ohio DOT; and Patrick Hughes, Minnesota DOT.
The Perpetual Pavement award is given to owners of asphalt pavements that are at least 35 years old and have never had a structural failure. The road must demonstrate the qualities expected from long-life asphalt pavements: excellence in design, quality in construction, and value to the traveling public. For more information about the Perpetual Pavement Awards, click here.
The Asphalt Pavement Alliance is a coalition of the National Asphalt Pavement Association, the Asphalt Institute, and the State Asphalt Pavement Associations. The Asphalt Pavement Alliance's mission is to further the use and quality of Hot Mix Asphalt pavements. The Alliance will accomplish this through research, technology transfer, engineering, education, and innovation.