Asphalt Institute Regional Engineer Sandy Brown authored "Carbon Footprint – How does asphalt stack up?" for the Asphalt Pavement Alliance.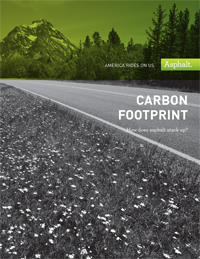 The four-page document examines greenhouse gas production of asphalt and concrete pavements. The analysis shows clearly that asphalt has a much lower carbon footprint than concrete.
Easy-to-read tables and charts compare CO2 emissions, greenhouse gases from initial construction and 50-year life cycle greenhouse gases of asphalt and concrete pavements.
The APA is made up of the Asphalt Institute, the National Asphalt Pavement Association and the State Asphalt Pavement Associations.