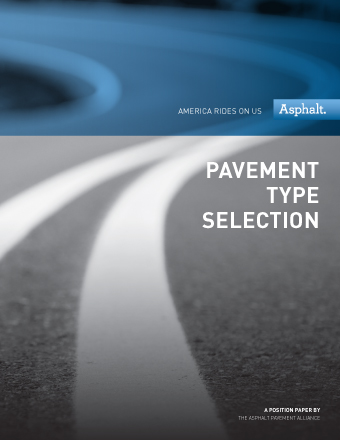 The Asphalt Pavement Alliance (APA) has released a new position paper entitled Pavement Type Selection. Created by the APA economics team, the document outlines principles that state DOTs can use in choosing whether to use asphalt or concrete pavement for a particular roadway.
The paper discusses the design guides published by the American Association of State Highway and Transportation Officials (AASHTO) and provides a bibliography of important publications on the subject. The publication also includes a chart summarizing the life cycle cost inputs from various states and a handy checklist for agencies to use.
The 20-page publication provides a synthesis of the most important factors for consideration in pavement type selection processes. These include traffic, soil, weather, construction considerations, recycling, cost comparisons, sustainability, noise, roughness and safety. In addition, the white paper presents the advantages of asphalt pavement for roads that best meet these criteria.
"Systems for selecting pavement type should be objective, defensible, understandable and based on historical records," said Dave Newcomb, NAPA's Vice President-Research and Technology, one of the authors of the report.
"It's also important that these processes be driven primarily by economics. The goal is to provide the best value for the taxpayer and the road user-not to support the economic health of a pavement industry," adds Newcomb.
The Asphalt Pavement Alliance is a coalition of the National Asphalt Pavement Association, the Asphalt Institute, and the State Asphalt Pavement Associations. The Alliance's mission is to further the use and quality of asphalt pavements. The Alliance will accomplish this through research, technology transfer, engineering, education, and innovation.