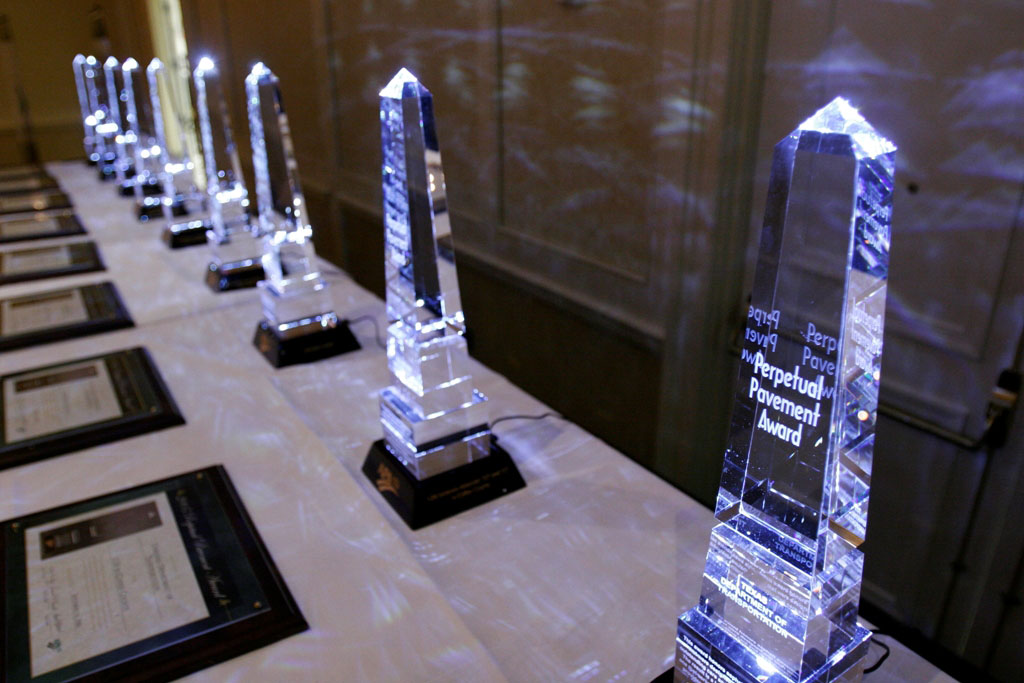 The Asphalt Pavement Alliance (APA) has announced the winners of its 2005 Perpetual Pavement Awards. The award is given to owners of asphalt pavements that are at least 35 years old and have never had a structural failure. The road must demonstrate the qualities expected from long-life asphalt pavements: excellence in design, quality in construction, and value to the traveling public.
The 2005 winners, as determined by the National Center for Asphalt Technology (NCAT), are:
Alabama DOT, for State Route 255 between mileposts 0 and 2.82 in Huntsville

Connecticut DOT, for I-95 between mileposts 101.1 and 111.5

Maryland Transportation Authority, for I-95 from the Susquehanna River to the Delaware state line

Minnesota DOT, for Trunk Highway 18 between mileposts 2 and 20 in Crow Wing County

Mississippi DOT, for Lauderdale I-59 northbound between mileposts 0 and 8.411 and southbound between mileposts 0 and 8.442

Montana DOT, for I-90 between mileposts 439.33 and 445.46

South Carolina DOT, for I-20 between the Lexington County line and US Route 1 in Aiken County

Tennessee DOT, for I-24 between mileposts 107 and 117 in Coffee County

Texas DOT, for RM 2828 from SH 173 to SH 16 in Bandera County.
The awards will be presented at a special ceremony on September 14 at the International Conference on Perpetual Pavement in Columbus, Ohio. Each winner will receive an engraved crystal obelisk and a handsome plaque. The winners? names and project information will be added to a plaque that is on permanent display at NCAT.
Nominations for the Perpetual Pavement Award were evaluated by engineers at NCAT and the winners were validated by a panel of industry experts.
"Even though each of these pavements has been punished by more than 35 years of heavy use, motorists are still using the original pavement structures. The only maintenance has been periodic replacement of the surface," said Laurence O?Donnell, APA Co-Chairman. "The extraordinary performance of these pavements is worthy of attention."
"Perpetual Pavement is an industry standard which is extremely well represented by these winners," added Alden Bailey, APA Co-Chairman. "Long life, durability, and exceptional performance are hallmarks of Hot Mix Asphalt. These pavements are testimonies to high-performance asphalt as a marriage of excellent design and quality construction."
The Asphalt Pavement Alliance is a coalition of the National Asphalt Pavement Association, the Asphalt Institute, and the State Asphalt Pavement Associations. The Asphalt Pavement Alliance's mission is to further the use and quality of hot-mix asphalt pavements. The Alliance will accomplish this through research, technology transfer, engineering, education, and innovation.