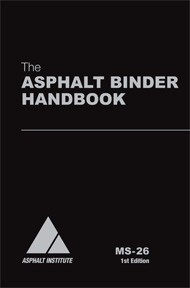 The Asphalt Institute (AI) released their newest book, "MS-26, The Asphalt Binder Handbook" in July.
The 223-page book is devoted entirely to information about asphalt binders or bitumen.
"This book brings together, in one location, everything about asphalt binder that the Asphalt Institute has," said author R. Michael Anderson, P.E.
Anderson is the Director of Research and Laboratory Services at AI.
The book is a compilation of information previously found in titles like "SP-1, Superpave Performance Graded Asphalt Binder Specification and Testing", "MS-4, The Asphalt Handbook", "MS-19, The Basic Asphalt Emulsion Manual" and others.
MS-26 also features new information on Multiple-Stress Creep Recovery tests, the generation of mastercurves, testing variability and more.
"This book is for anyone in the asphalt industry that wants to know more about liquid asphalt," said Anderson.