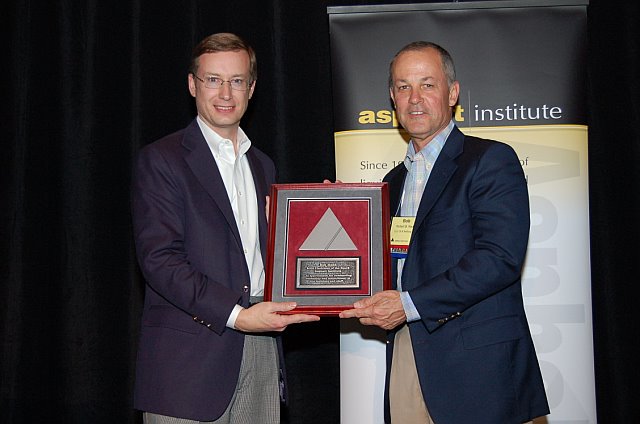 The Asphalt Institute 2006 Annual Meeting in Bonita Springs, FL on Nov. 29 – Dec. 1 celebrated a successful year for the Institute. A record 315 members and guests attended the meeting.
AI welcomed four new member companies at the meeting: Idaho Asphalt Supply, Inc.; Gardner Asphalt Corporation; Asphalt & Fuel Supply, LLC; and Blacklidge Emulsions, Inc. AI's membership currently stands at a record number 93 member companies.
The Thursday night awards dinner, which featured an "AI Sports Bar" theme, was the venue for presentation of the annual golf tournament awards.
Following the golf awards, the Institute honored 10 member companies for their years of continuous membership and also recognized two individual members for contributions to AI. Alden "Corky" Bailey of Jebro Inc. and William "Bill" Thorpe, Jr. of Paramount Petroleum each received the President's Award for their service as committee chairmen. Bailey served as chairman of AI's Marketing Committee and Thorpe as chairman of the Personnel Advisory Committee.
The Institute concluded the evening by recognizing 2006 AI Chairman Bob Redd of U.S. Oil & Refining Co with a plaque for his service and leadership as Chairman of the Board of Directors this year.
On Friday, the Board of Directors elected Gary Hewitt of Marathon Petroleum Company LLC as the 2007 Institute Chairman. Hewitt thanked 2006 Chairman Bob Redd for an outstanding job in his tenure as AI Chairman. Corky Bailey of Jebro Inc. was named the incoming Vice Chairman.