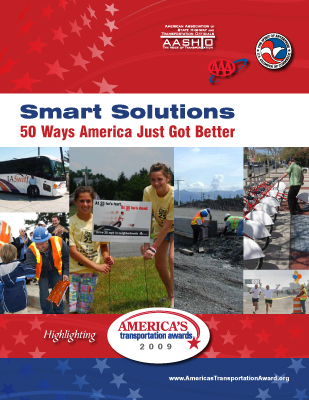 From the seven North Carolina bridges replaced in 45 days to the Utah highway that reduced commuters' drive time from 42 to 16 minutes – a report released by the American Association of State Highway and Transportation Officials (AASHTO) highlights 50 projects nationwide that documents smart transportation solutions by state transportation departments.
The projects were entered in a competition to find America's best projects, delivered on-time, on-budget and with innovative management. "What we found from examining the entries is that the states are applying creativity, accountability, efficiency, and cost-effectiveness in delivering the transportation improvements their communities need. As a result, delays are shorter, projects are faster, and taxpayers get more for their investments," said John Horsley, AASHTO Executive Director.
The report, "Smart Solutions: 50 Ways America Just Got Better," highlights success stories of state DOTs across the nation from the 2009 America's Transportation Awards competition. The contest is sponsored by AASHTO, AAA, and the U.S. Chamber of Commerce.
The America's Transportation Awards contest nominations were completed early and under budget, sought innovative methods to solve problems, relieved seriously congested vital corridors, improved public safety, enhanced economic growth, rebuilt after and prepared for disasters, achieved sustainable solutions, supported tourism, and engaged the community.
Among the techniques used to make good projects better are: creative contracting, financial incentives and disincentives for contractors, innovative construction techniques, strategic traffic management, intelligent transportation systems, dogged attention to schedules, innovative financing, intergovernmental cooperation, and constant communication.
"It is critical that our transportation systems receive the funding necessary to keep America moving," said Horsley. "But even more important is that our state and local governments use that money to deliver projects that quickly meet the needs of our communities in the most-cost-effective and efficient manner."
Featured projects from 33 states demonstrate the breadth of successful transportation investments — from work on Interstate corridors that eased congestion and used fast-track construction techniques to efforts that enhanced public safety by improving roads and rising public awareness.