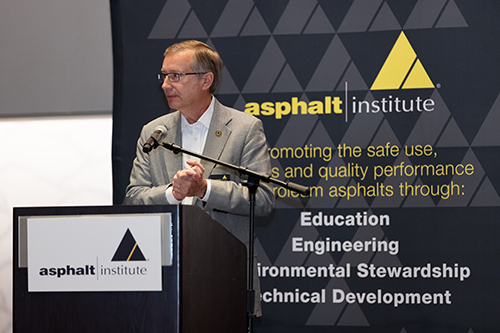 Asphalt Institute President Pete Grass celebrates 20 years as the president of the trade association in 2021. We asked him these twenty questions to both celebrate and reflect. 
1. What drew you to work with the Asphalt Institute? 
As I prepared for my career transition, I was looking for an opportunity to combine my civil engineering background with my leadership skills. We were also looking for a family-friendly place for our daughter to grow up without further relocations. While still working in the Pentagon, I got a call from a headhunter firm and the Asphalt Institute selection committee guided the rest of the process. Lexington and the Asphalt Institute's opportunity more than met our expectations.
2. What is your military background? 
Needing a way to pay for my college education, a close family friend suggested I consider the Army's scholarship programs. Entering the Army as a Second Lieutenant, I intended to serve out my initial commitment and return to New England to practice civil engineering. One thing leads to another, and the opportunities were too good to pass up – so I ended up staying quite a while! I enjoyed working with both the troop side of the Army and later with the Corps of Engineers in several assignments. They were both challenging and rewarding. For me, it was a great career that yielded some of my best life-long friendships and unique experiences.
3. Where did you receive your education? 
I have a Bachelor of Science in Civil Engineering from the University of New Hampshire and later earned a Master of Science in Civil Engineering from Georgia Institute of Technology. I followed up the masters by studying for the Professional Engineer exam – which I took – and passed, while stationed in Honolulu, Hawaii with the Army.
4. What certifications have you earned in association management? 
In 2009, I became a Certified Association Executive through the American Society of Association Executives. This is an important designation for association leaders and one that has been achieved by less than five percent of those who work in the association field. It helps us be a better organization which is why our board supported my pursuit of the designation.
5. What inspires you? 
Best in class craftspeople. I admire individuals who make things with their hands which are both beautiful in form and purposeful in function. All sorts of people do this from cabinet makers to welders to artists. Anyone can produce low-quality work. The other end of the spectrum is inspirational.
6. What laboratory developments have you seen in your 20 years in the industry? 
There are a lot as we search for the holy grail of asphalt testing – a platform which will yield reliable and predictive performance-based testing. We're getting better but aren't there yet. Another is in laboratory management itself. We think it is critical that technicians and labs seek some level of certification. We're proud of our work here in binder (NBTC) and emulsion (NETC) training and our R18LabQMS product. 
7. How do today's trade associations best connect their members? 
Today's environment mandates we have multiple channels to connect with our members. Some want print materials only, others only digital. Some are comfortable meeting largely online, and others eschew that for the in-person meetings. The asphalt industry is very much relationship-driven, and all our work must foster these relationships and learning opportunities. 
8. How does AI collaborate globally? 
We collaborate with many different industry segments to help promote the quality use of petroleum-based asphalt. For example, we partner with the National Asphalt Pavement Association and the State Asphalt Pavements Associations to promote hot mix asphalt in the US through the Asphalt Pavement Alliance. We are strategic partners with Eurobitume – a European-based trade association – as we collaborate on our mutual liquid asphalt interests.
9. Who do you consider a role model? 
Colin Powell. He was a consistently great leader. World-class by any measure. His writings on leadership are some of the best you'll find. 
10. What daily habit do you consider a key to your success? 
Starting early. Planning. I often tell our staff we all need time to look out the window – having time to think and plan. This makes us all better.
11. What is your favorite city to visit? 
I always look forward to visiting Brussels, Belgium, and fortunately have that opportunity often as our strategic partner Eurobitume is headquartered there.
12. How can new asphalt industry professionals engage with their career community? 
Belong to your industry trade association such as the Asphalt Institute or professional association/society. Join a committee, engage, contribute. It's amazing how important this is to your career and your employer and is perhaps the best advice I can give anyone joining any industry.
13. What is your go-to career/leadership book? 
Here's two; "Re-imagine! Business Excellence in a Disruptive Age" by Tom Peters and Sebastian Junger's "War" – a story of teamwork and survival in Afghanistan's Korengal Valley. 
14. What trends do you see arising in the asphalt paving field? 
The additives and modifiers fields are experiencing tremendous growth. The agency challenge is to understand the potential benefits while ensuring long-term performance at a cost that pencils out in the life cycle cost analysis. Another exciting area is specialty products which solve traditional pavement problems. We need to be open to trying these and using them in our pavement structures for the benefit of the taxpayer.
15. What trends do you see coming in the asphalt roofing industry? 
We have to re-balance and grow market share in both low-slope and steep-slope asphalt products. It has been a struggle, but the industry's innovation is remarkable. We're seeing a lot of new initiatives which increase longevity, ease of use and are very environmentally friendly. This can be a game-changer.
16. What musical artist will show up most on your playlists? 
I have a wide range of musical interests ranging from U2 and The Killers to country and the likes of Darius Rucker and Toby Keith and even my new favorite Lane 8's song "Road." That's a lot of music genre bandwidth.
17. If you were not an engineer, what occupation would you want to explore? 
I'd be in the medical field but for a stomach that gets queasy viewing a grade-school first aid training film. I wanted to help people – and that seemed a good path, but it wasn't for me. I'm glad I went the civil engineering route.
18. What do you consider a career highlight of the last 20 years? 
Years ago, I was challenged with a question from a member company's senior executive; "What is AI doing to prepare people for tomorrow?" This spawned our leadership development program we named EPIC – an acronym for how adults learn; Experience, Participatory, Image driven, and Connective. This program is now starting our sixth class (photo below) – who will soon join other industry professionals better equipped to lead in an ever-changing environment. We've also been successful in attracting a great staff here at AI. The longevity of our staff yields high-performance work skills and demonstrates how great a career in this industry can be. I'm especially proud of both achievements.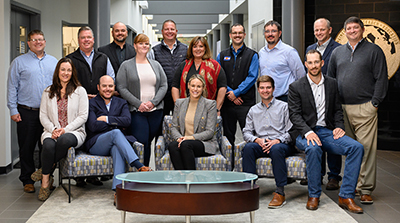 19. Has Kentucky been a good place for your family? 
Wonderful. When we moved here, a major part of the reason was for the family environment to raise our daughter. Lexington has a great balance of good schools, lower cost of living and a wide variety of recreational opportunities. We still love showing off 'our town' to visitors.
20. What challenge do you think our industry will face in the coming years? 
Keeping pace with the public's desire to achieve sustainability goals in our communities is a challenge. It will get more acute. An example are trial pavement segments looking to recycle a waste product to 'try it out' often with unsubstantiated claims of much better performance. Our industry has a great sustainability story with asphalt being the most recycled product in America. We can make a very good pavement with the recycled pavement. However, for best performance, this mix must be engineered for the application. It must be constructed properly to good specifications. And our inspectors must know what right looks like on the job. Our industry is poised to continue to make great strides in the sustainability area. Stay tuned!