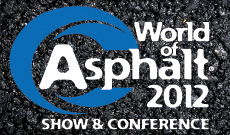 Exhibit space sales successfully kicked off for the 2012 co-located World of Asphalt and AGG1 exhibitions with a "space draw" at CONEXPO-CON/AGG 2011 in late March.
The show floor already spans 67,300 net square feet, and space sales are tracking ahead of the record-breaking 2010 event. More than 75 percent of the 2010 final space tally has already been reserved.
The 2012 World of Asphalt Show & Conference and AGG1 Aggregates Forum & Expo was held March 13 – 15, 2012 at the Charlotte Convention Center in Charlotte, North Carolina. The exhibitions are held annually except in CONEXPO-CON/AGG years.
Exhibit space rates were the same as 2009, and membership in the owner/producer associations provides discounted space rates. A "package plan" of booth-related services, such as material handling, is included at no charge in the space rates.
More than 6,000 industry professionals from the aggregates, asphalt, pavement maintenance and traffic safety sectors participated in the 2010 event.
World of Asphalt is owned by National Asphalt Pavement Association (NAPA) with Association of Equipment Manufacturers (AEM) and National Stone, Sand and Gravel Association (NSSGA). AGG1 is owned by NSSGA. AEM produces both shows.