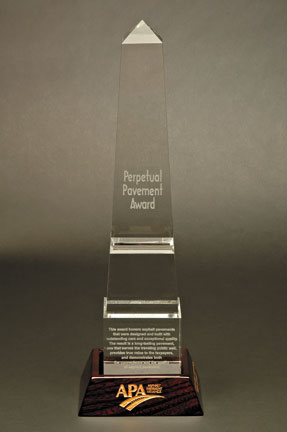 The Asphalt Pavement Alliance (APA) has announced the winners of its 2006 Perpetual Pavement Awards. The award is given to owners of asphalt pavements that are at least 35 years old and have never had a structural failure. The average interval between resurfacing of each winning pavement is no less than 13 years. Each road must demonstrate the qualities expected from long-life asphalt pavements—excellence in design, quality in construction and value to the traveling public.
California Department of Transportation (Caltrans) for a section of the San Diego Freeway (Interstate 405) between Harbor and Beach Boulevards which opened to traffic November 1966. Other than crack sealing, the pavement has required no major maintenance.
Minnesota Trunk Highway 61 for an eight-mile section of TH 61 between Wabasha and Kellogg in the southeastern part of the state. The road has withstood the test of time and traffic, having carried approximately 3 million equivalent single axle loads (ESALs) during its 37-year lifetime.
Montana Department of Transportation for a 10-mile stretch of I-90 located on the continental divide where elevations range from 5500 to 6300 feet. The road is the most heavily traveled one in the state, carrying east and westbound traffic. Over 40 years, approximately 72 million vehicles have traveled the route. The road has required only minimal maintenance patching.
Nebraska State Highway 35 connecting Norfolk, Nebraska, to South Sioux City, Nebraska, and Sioux City, Iowa. Proactive maintenance—applying the right treatment at the right time, including machine patches and armor coats—has been a key element in the road's longevity.
Tennessee State Route 14 for a 14-mile section in Tipton County. In 36 years of service, each section of this road has been resurfaced only once. Since it opened, State Route 14 has withstood approximately 8 million ESALs in the most traveled section.
Virginia Interstate 81 for a northbound section just north of Winchester in Frederick County built in 1965. In 2004 a 1.5-inch stone matrix asphalt (SMA) surface course was placed. Although the road carries approximately 24,800 vehicles a day, with 26 percent truck traffic, the ride quality is excellent.